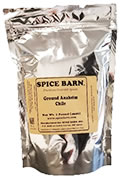 | | |
| --- | --- |
| Ground Anaheim Chile Powder 1 Pound Pouch $7.99 | |
Description: Made from grinding whole, dried Anaheim Chiles, seeds and pod both. Anaheim/New Mexico Chiles are elongated, tapered, and the dried form of the Red Anaheim. Ranges from 2-4 on a heat scale of 1 to 10. The Anaheim/New Mexico Chile may be referred to as the California Chile or Chile Colorado.

Contains:  Dried Anaheim Chiles, Silicon Dioxide (anti-caking agent)

Usage:  Use in stir fry, or sprinkled over poultry or fish before baking or grilling. Toss popcorn with a bit of Chile Powder for a great and different snack.

Storage: Store in a cool dry place, away from heat, light, and humidity.